'Look', my son cries, 'a rainbow'. We stop and gaze in wonder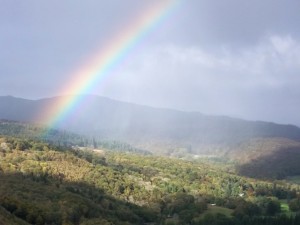 at the vivid colours leaping across the sky towards their fabled pot of gold that promises new beginnings and richness beyond imagining. My son is delighted that it appears to start just behind our road somewhere. I am delighted by his innocence, joy and enthusiasm. I am reminded that I need not chase after an ephemeral, always just out of reach, external source of riches. My son's excitement and the rainbow's own glory prompt me to stop and savour the riches I am already living. Right here, right now my own pot of gold laughs with me at the amazing colours of life unfolding before our eyes.
As if a joyful reminder to notice the richness already surrounding me, and a promise of hope and renewal weren't enough, today the rainbow also directed me towards the power of forgiveness via my much loved deck of Mother's Wisdom Cards. I pulled the Rainbow card and was invited to reflect on forgiveness. I remembered times I had forgiven a person or event that was weighing on my heart. the resultant joy and lightness causes me to soar to heights on a par with the rainbow's dizzy display of colour.
As I reflected a strong memory surfaced of one of the most memorable and significant times I have felt forgiveness. The back story shows me at a time in my life when I was single and had just tried, luckily unsuccessfully, to have a relationship with a highly unsuitable man. He did not treat me well and still I chased. My huge grief at the realisation that this was not going to be the relationship I wanted it to be was totally out of proportion to the handful of times I had met him before he ran away and refused all contact.   Every attempt at real communication felt catastrophically wrong and painful. I became angry and bitter at the way I had been treated and despite previous attempts to find closure had not managed to let go of the story. Even I could tell I was obsessing over something that from the outside looked relatively minor. Why did it feel so big to me?
So I sought support from a friend and colleague in the form of a Journey Process.* During my process I was transported back to what appeared to be a past life memory of my execution. I was about to be beheaded by someone I knew from my village and as I looked into his eyes I recognised him to be this man from my present life who'd mysteriously run straight out of my life. I felt such a strong connection to this person and felt that they had been important to me in this life yet here they were about to execute me. His eyes were full of guilt and anguish. I continued to gaze at him and consciously opened into his heart and asked to be shown how it was for him. I was blasted into such a powerful shock and grief with the words 'I am sorry, please forgive me' repeated over and over and over again.
I felt our village was being ransacked and women were being targeted and punished, particularly healers or medicine women and there was a kind of civil war happening with villagers being pitted against each other in cruel twist. He was utterly horrified at what he was being forced to do. but although he did not want to kill me, in that moment, at that time he had no choice.
As I felt this I really had no choice either. I forgave him completely. Or more accurately forgiveness flooded my heart and being as I felt the totality of the situation and the enormity of his grief and regret. He had been punished enough. I let go of my blame, anger and betrayal. I allowed love to flow through me again. I felt whole and healed.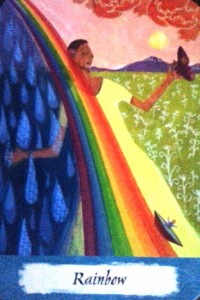 As I brought this energy through to the present day me I felt only compassion for my would be suitor and instead of the ranting email I had planned I found the only words in my mind and heart were 'I love you,  please forgive me and I let you go now.'
I never saw or spoke to him again. These words were expressed only in this process. But I have no doubt that they set us both free. As I let him go, both in the past and in the present, I let go too. I felt relief and joy. I felt as if I was flying  across the sky like the rainbow propelled by my forgiveness into a pot of golden freedom. I didn't need to chase it. The gold was pouring into and from my heart as love replaced the heavy weight that unbeknownst to me I had been carrying for far longer than the few months I had known this person.
Memories like these concerning what I term 'witch hunt mentality' seem to be occurring quite commonly at this time. Whole groups of women are releasing this stored collective consciousness from our past. It is time for women to step out of the shadow of these previous eras when to survive it was necessary to hide our talents and the ways of feminine healing and leading. It is time to forgive and set aside the past and to create wholeness. A wholeness where the feminine and masculine energies within each of us live in balance and unity. A wholeness where love and forgiveness shine forth like the rainbow leading us to the gold within.
This deep spontaneous forgiveness that came with understanding and emotional release set me free, set both of us free, and it is this kind of work that is setting a whole generation free. I am amazed by what I discover when I enquire within, how much can be imprinted and stored from traumatic events and equally how much can be released. We are creating space for new lives, new beginnings. A space that is much needed.
In this case, new beginnings spilled their colours quickly onto the canvas of my life. Shortly afterwards I met my amazing husband and my life took on a wonderful new direction.
And so I leave you with the reflection, Where in your life is forgiveness needed? What rainbows would brighten your sky brighten your sky when you forgive?
---
For more information about The Journey  pioneered by Brandon Bays and how it can help you find freedom and forgiveness please click here.*  For a 3 free guided visualizations created by Brandon Bays for healing and relaxation please click here* and for the free e-book The Journey click here *
Follow the link to learn more about and buy Mother's Wisdom Deck: A 52-Card Inspiration Deck with Guidebook (Book & Cards)
*
If you feel like you may benefit from some forgiveness work check out my 1:1 page to see what I offer or call me to chat about how I can help you.
*These are affiliate links.